Meet Our Team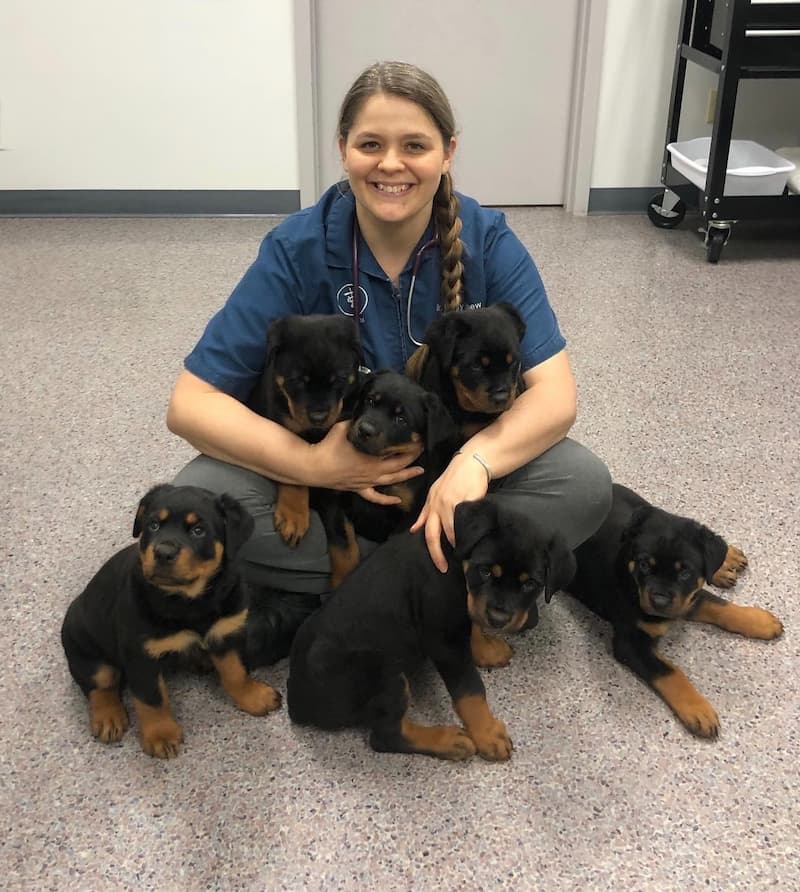 Dr. Emily R. Shew
DVM: Medical Director
Dr. Emily Shew was raised in the Chambersburg Pennsylvania area since she was seven years old and is a 1994 graduate of Cumberland Valley Christian School. Her Bachelor of Science in Biology was earned at Grace College in Winoma Lake, Indiana in 1998 and then her Doctorate of Veterinary Medicine in 2002 from Virginia-Maryland Regional College of Veterinary Medicine in Blacksburg, VA.

After veterinary school, she returned to the Franklin County, PA area, where she grew up, and practiced with local veterinary clinics for 8 years. On April1, 2010 Dr. Shew took over ownership of Lincoln Way Animal Hospital, a companion animal hospital that was established in 1952. Dr. Shew is known in the community for providing evidence based preventative medicine and surgical care for dog, cats, and pocket pets. She has a special interest in surgery. Dr. Shew also has a reputation for attention to detail, especially in regard to communication with clients and their animal's medical care, treatment plans, diagnosis, and finds it important to help clients understand the nature, cause, management, and prevention of conditions we oversee in veterinary medicine.

Dr. Shew is a very dedicated and family oriented person, enjoys cruises, and vacationing with her family to Disney.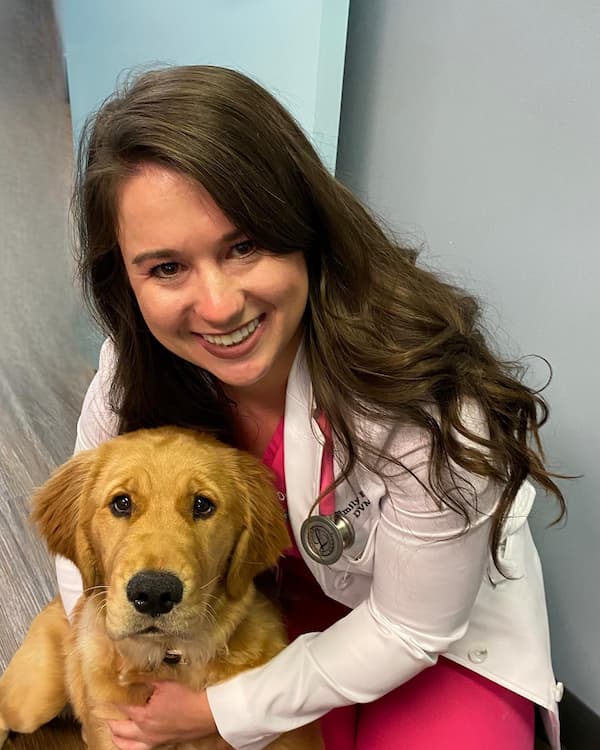 Dr. Brydon
DVM: Associate DVM
Dr. Brydon is a 2020 graduate of University of Illinois College of Veterinary Medicine. Dr. Brydon attended Taylor University for her undergraduate studies. After completing vet school, she practiced mix animal medicine for 2 years. She has a special interest in surgery, reproduction, and dentistry. Pictured with Dr. Brydon is her golden retriever puppy, Piper. Dr. Brydon is thrilled to be able to see your companion animals and hobby farm critters that can be brought in to the clinic. Help us in sharing this awesome news and welcoming Dr. Brydon!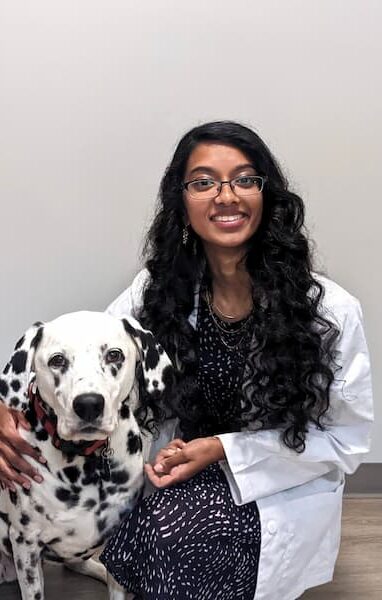 Dr. Anita Varkey
DVM
Dr. Varkey is from Chalfont, Pennsylvania. She completed her undergraduate studies in biology at the University of the Sciences in 2019, then accomplished her veterinary degree from the University of Pennsylvania School of Veterinary Medicine in 2023. Dr. Varkey is excited to join Lincoln Way Animal Hospital in their commitment to providing exceptional lifelong care for your pet. Aside from dogs and cats, she is also interested in caring for your sheep, goats, pot-bellied pigs, and backyard birds. Dr. Varkey loves spending time with her family, friends, and dog, Brandi (pictured). She also enjoys reading, baking, hiking, and trying new things.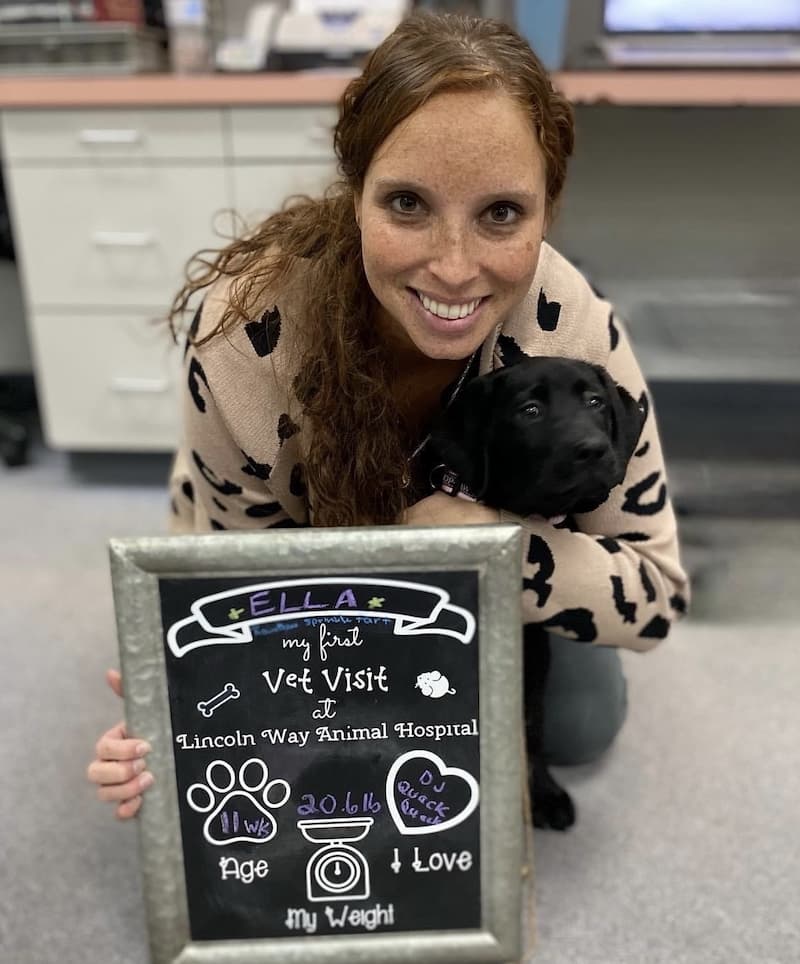 Alicia Shelly
Hospital Manager
Alicia started working at Lincoln Way Animal Hospital in July of 2005 under Dr. Stratton after graduating high school. She attended Shippensburg University studying biology with a pre-veterinary concentration and had intended on continuing to veterinary school. Alicia has enjoyed working with our patients and clients for nearly 2 decades and loves the challenges and uniqueness that each day brings. Her interests in veterinary medicine include dentistry, surgery, anything on the microscope, and doing diagnostics.

Alicia, her husband, and 2 children live locally on their farmette with 2 cows, 2 pigs, several chickens, 2 black Labrador retrievers, and 4 cats, with the hope of horses in the near future. She enjoys traveling, horseback riding, going to HersheyPark, and spending time with her family.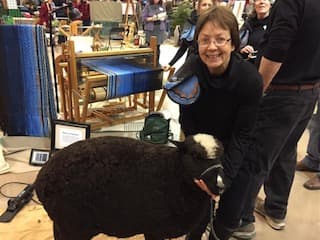 Joyce
Veterinary Nurse
Lincoln Way Animal Hospital has been a part of Joyce's life before she was employed here. Growing up, Dr. Gruen and Dr. Stratton would come to her family's dairy farm to tend to their cows. Joyce started working with LWAH in 1976 doing housekeeping and fill-in work. Since then, she has been working alongside the doctors, clients, and patients. Joyce is our resident spicy cat lover and wrangler.

Joyce and her husband have 2 sweet kitten boys, many sheep, and an abundance of chickens on their farm. She is involved with a local spinning and weaving team, Friend's Thru Fiber, and participates in spinning and weaving demos as well as Sheep to Shawl Competitions.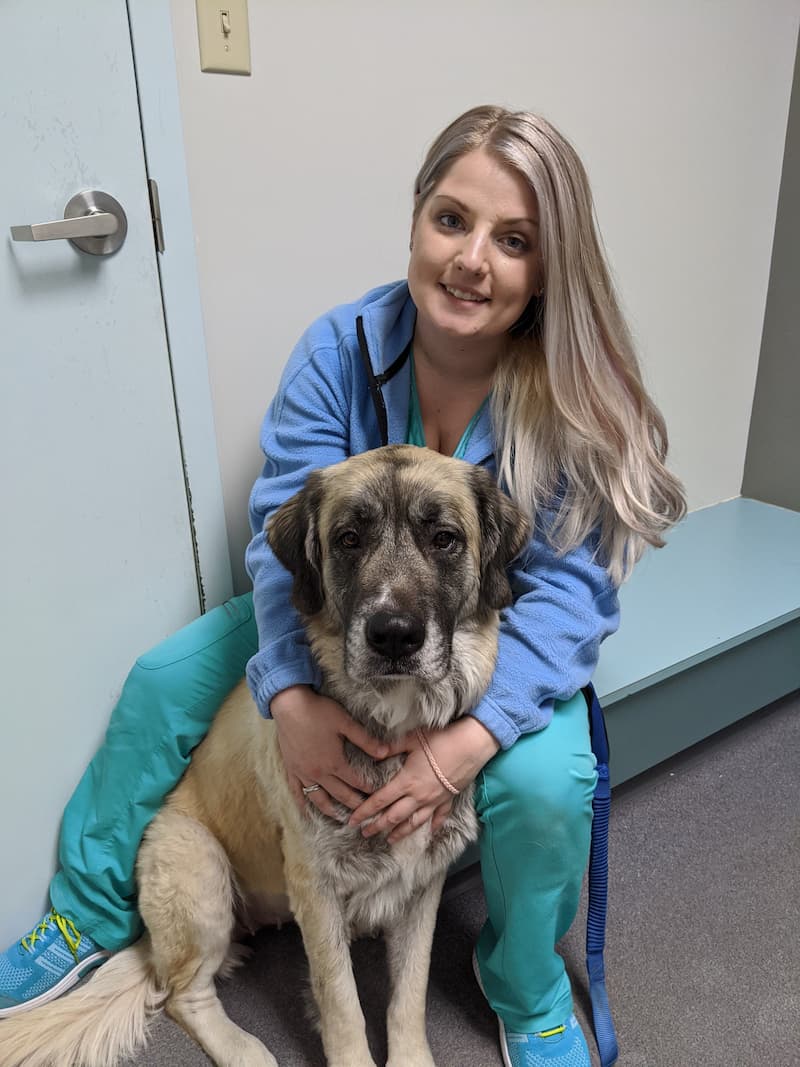 Danielle Dietz
Supervisor, Veterinary Nurse
Danielle D. has been a part of the LWAH team since October 2018. She is a graduate of Penn Foster University with her Veterinary Assistant Certificate. She has been working in the animal care industry for 8 years, being in veterinary medicine for 6 years. Danielle is one of the supervisors here at Lincoln Way Animal Hospital. She enjoys this leadership role, being a triage nurse, and likes to stay busy.

She and her fiancé have a Siamese Cat named Gizmo and a Bernese Mountain Dog, Dakota Bear. For fun, Danielle likes going to concerts, spending time with friends, all things autumn, going to wineries, and home décor / working on remodeling projects.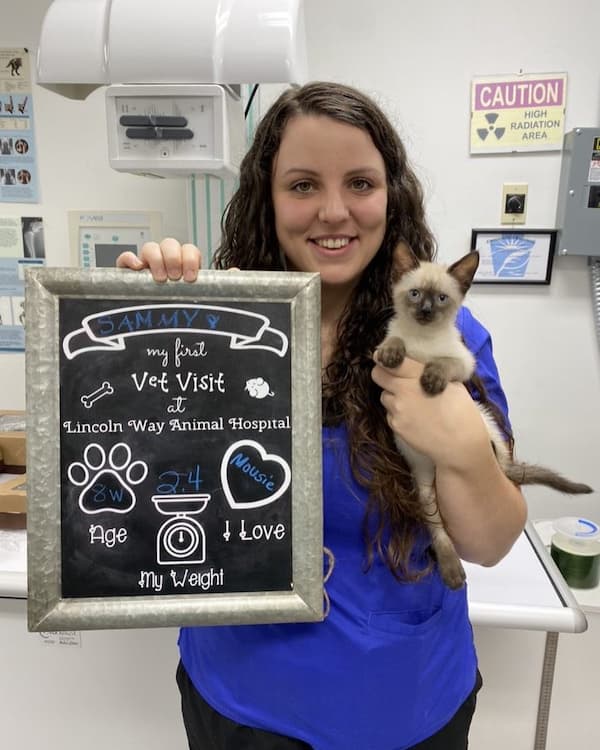 Abby
Supervisor, Veterinary Nurse
Abby is Penn Foster University graduate and has her Veterinary Assistant Certificate. She has worked at our hospital since June of 2019 and is one of the supervisors as well as lead surgical nurses. Abby has 8 years of clinical experience in the veterinary field. As you can expect, one of Abby's favorite parts of veterinary medicine is surgery. She is an excellent patient advocate and always strives for the best for her patients. You also may find Abby loving on all the small breed dogs that come through our doors.

Abby and her husband have a 13 year young tripod Shih-Tzu named Bella and a kitty name Brad. Abby enjoys the outdoors, cooking/baking, and is a pottery artist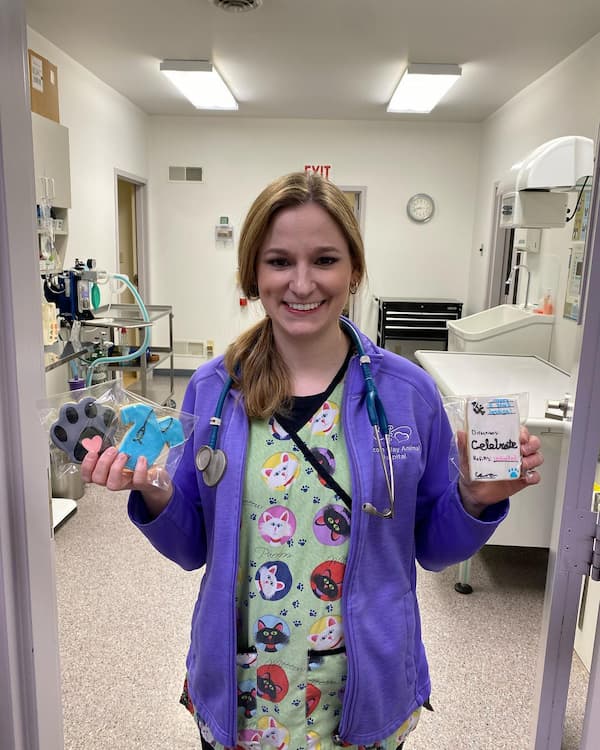 Jessica
Suervisor, Veterinary Nurse
Jessica has worked at Lincoln Way Animal Hospital for over 5 years but has 17 years of clinical veterinary experience. She is one of the supervisors here at our hospital. She attended Frederick Community College where she completed the Veterinary Assistant Program. Jessica grew up in a large family on their dairy farm and has worked with animals since she was a child, being involved with her local 4-H clubs showing a variety of animals. She is extremely patient and detailed with her patients and our clients.

Jessica, her husband, and 2 children live on their beef farm with their mini aussie, Nyla. She enjoys spending time with her family, beach vacations, and getting together with her friends.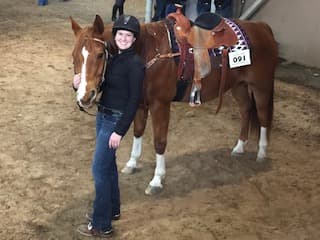 Danielle B.
Veterinary Nurse, VMT
Danielle B. is a Wilson College graduate with a BS in Veterinary Medical Technology. She has experience with working with companion animals as well as a large animal, hobby farm animals, and equine. Danielle has many years of experience working in the veterinary profession and had previously worked for LWAH and is back working part-time.

Danielle, her husband, and daughter live on a farm with their 2 dogs, several kitties, and many animals including lots of horses, 2 minis, a family milk cow, beef cows, and many chickens. She enjoys participating in trail challenges, working with her yearling, Miles, gardening, and spending time with her family.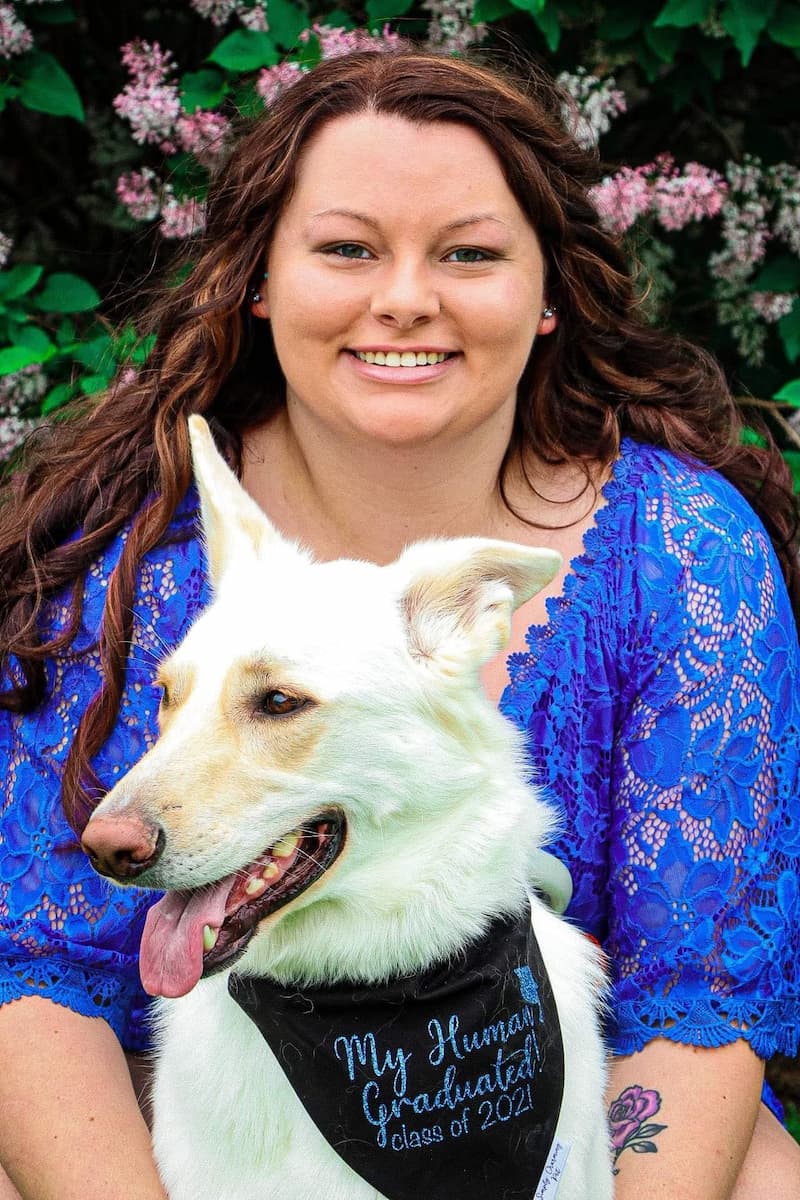 Tiffany, B.S.
Veterinary Nurse
Tiffany is one of our veterinary nurses who has been in the field for nearly 7 years. Prior to our clinic, she was with another local hospital for 6 years. Tiffany completed her Veterinary Assistant Program from Franklin County Career and Technology Center when she was in high school. She completed her Bachelor of Science in Biological Sciences from Wilson College in 2021. Tiffany is very patient and is great with client communication.

Tiffany has a sweet white German Shepherd named Willow and 2 cats, Sandy and Taz. Tiffany enjoys going to concerts, kayaking, and going to wineries.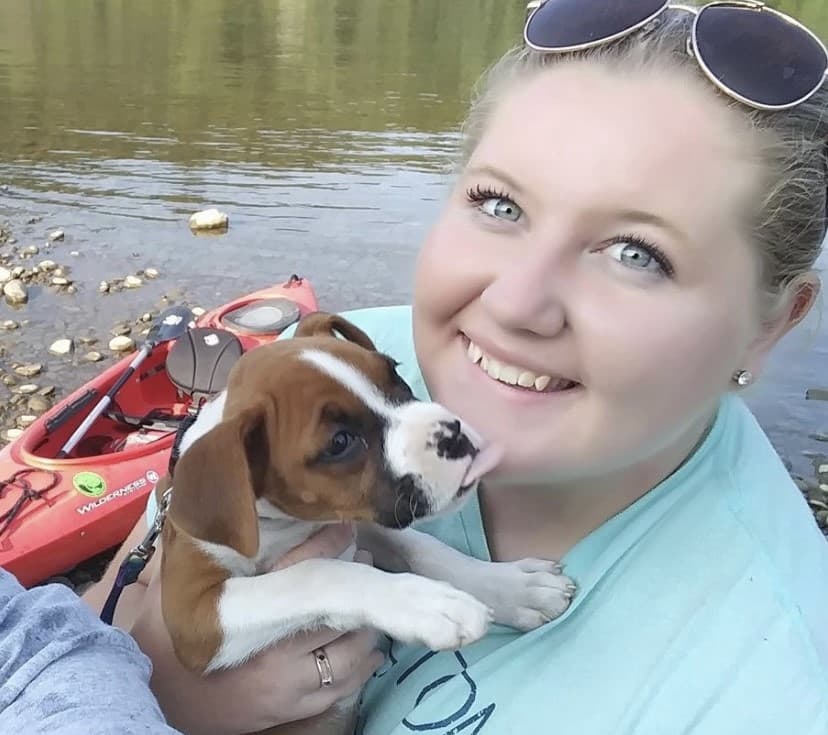 Kaitlin
Veterinary Nurse, VMT
Bio coming soon!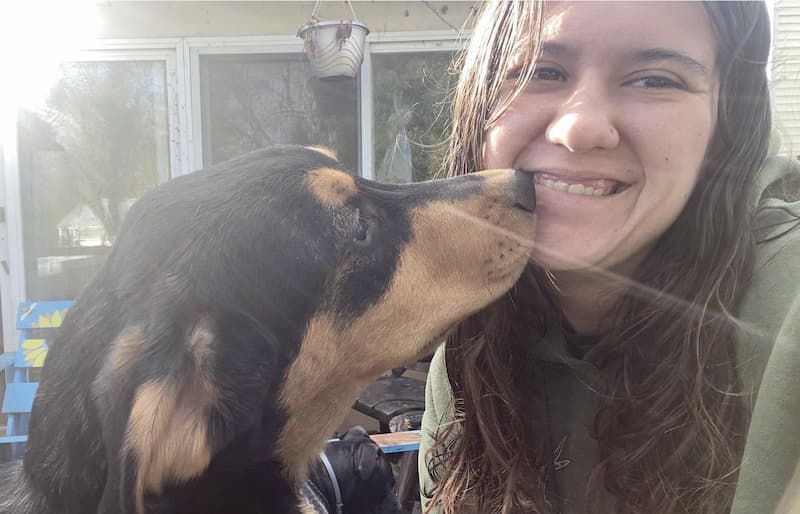 Jade
Veterinary Nurse, VMT
Bio coming soon!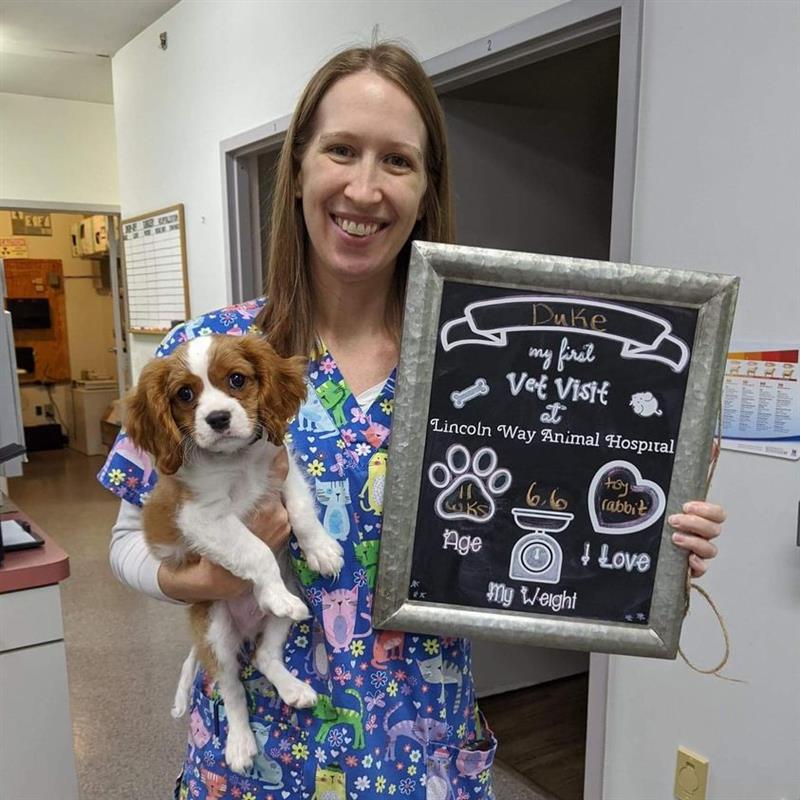 Shauna, B.S.
Veterinary Nurse
Bio coming soon!